Your guide to spirited adventure in Bourbon City - even during a pandemic
Luckily, we've got you covered if you didn't plan in advance with these 'mostly' walk-right-in Bourbon experiences: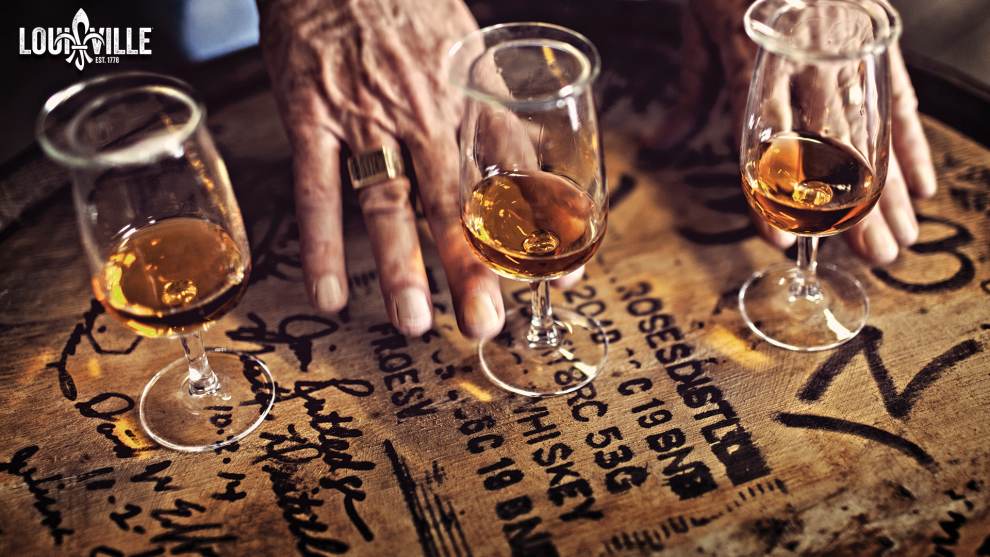 Since many of Louisville's Bourbon distilleries have temporarily closed their visitor experiences during COVID-19, getting a tour reservation at the ones that are open is a coveted spot for a last-minute weekend visit. If you can't get into Kentucky Artisan Distillery Peerless Distilling Co and Stitzel-Weller, here are some other options:

This museum encourages guests to explore 1,000 years of history with the 'Tiny Tours & Tastings' program. Guests have access to all the exhibits throughout the museum, including learning the history of Bourbon in the official Kentucky Bourbon Trail Welcome Center and The Spirit of Kentucky exhibition. Plus, there is an option to add on a guided Bourbon tasting for patrons that are over 21. Their gift shop is also a treasure trove of specialty Bourbon bottles for sale, often offering those hard-to-find collector bottles.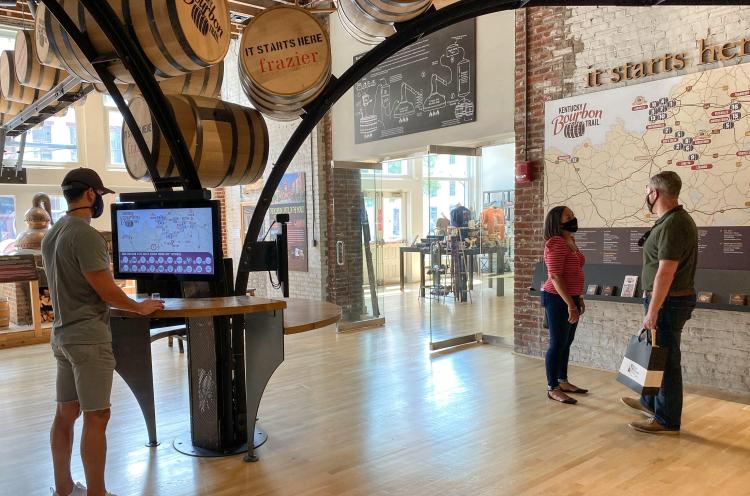 Galt House Hotel Bourbon Chef Series

This iconic riverfront hotel invites bourbon-enthusiasts to embrace the southern flavors of Kentucky through the eyes of popular regional chefs with its new "Bourbon Chef Series." This rotating series will showcase top regional chefs, who will collaborate with The Galt House's culinary team to create a unique, bourbon-inspired dish that will be featured on the menu for a limited time in the newly debuted Swizzle Dinner & Drinks, the rotating restaurant perched on the 25th floor of the hotel. Guests will also have the opportunity to meet the visiting chef on the launch day of their bourbon dish, which will remain on the menu for five weeks to allow plenty of time for foodies to try it (or come back for seconds). Contact the restaurant for details.

Justins' House of Bourbon

Owned by two Justins – Justin Sloan and Justin Thompson, who began collecting Bourbon 10 years ago, with Thompson also starting the well-known Bourbon magazine, "The Bourbon Review" in 2008. You know they mean business with a whiskey historian on staff. Not only does Justins' House of Bourbon have a bar to belly up to, but also offers a cozy tasting room along with the ability to sell bottles from their two walls worth of bottled Bourbon. If you contact them in advance, they will put a tasting flight customized to your budget –including rare sips. They also double as a Bourbon museum as they have quite the collection of hard-to-find and antique bottles along with memorabilia on display, with everything for sale for the right price. If you are looking to scour the shelf for specialty Bourbon, you're bound to be able to find something here.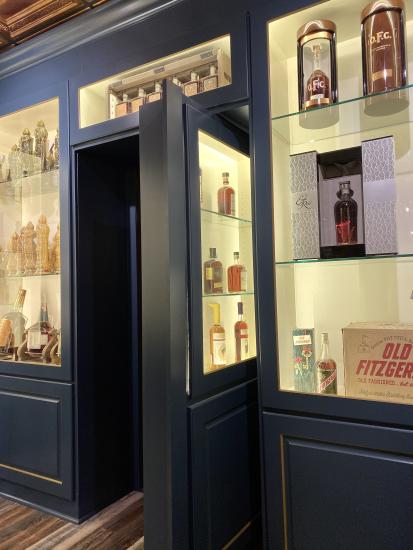 Moonshine University

This is for those wanting to "take it up a notch" with special master classes that are an investment and time consuming, but worth it for the connoisseur-to-be. Classes range in length and topic, from a two-day class on everything you wanted to know about fermentation to a six-day distillers course or whiskey workshop. Their classes bring in people from all over the world who want to learn the art of distilling, and when they see Master Distillers from companies like Jim Beam, it's akin to meeting their heroes.
Trouble Bar

Owned by Nicole Stipp and Kaitlyn Soligan Owen, two women who delight patrons with flights, fancies and events designed for whiskey enthusiasts and the Bourbon curious – with beer, wine and margaritas for everyone else. The dynamic duo refer to the bar as the "Rainbow Palace of Whiskey Dreams." And you really can dream, not only do these two ladies offer Bourbon tastings and event space, but they also want to serve tourists by booking trips through their travel company, Matson & Gilman.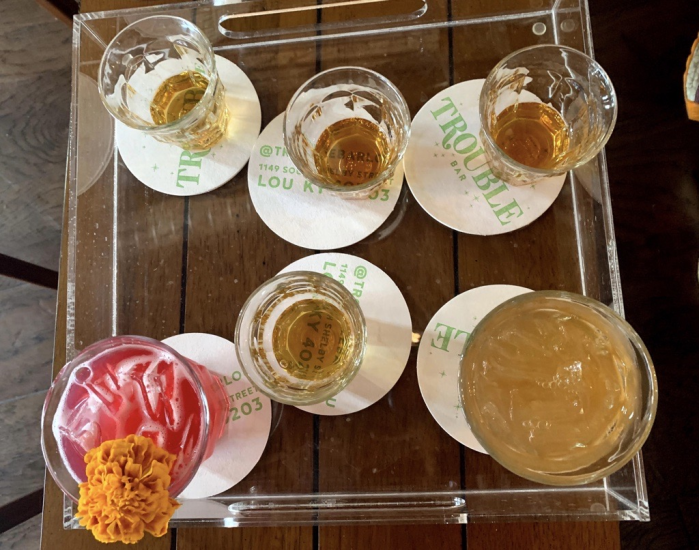 Urban Bourbon Trail

Save time to traverse Louisville's Urban Bourbon Trail®️, a mouthwatering cocktail and culinary experience highlighting the city's best Bourbon bars and restaurants. This elevated "pub crawl" will have you sipping Kentucky's finest at more than 40 local establishments, each stocked with at least 60 different Bourbons. Don't forget to bring your appetite as you can savor Bourbon-infused food dishes from appetizers to desserts. Check-in from at least six different locations to receive a coveted UBT t-shirt and become an official Urban Bourbon trailblazer. Call ahead as some establishments may be closed or have alternate hours. Kentucky currently allows 50% capacity indoors, but that is subject to change.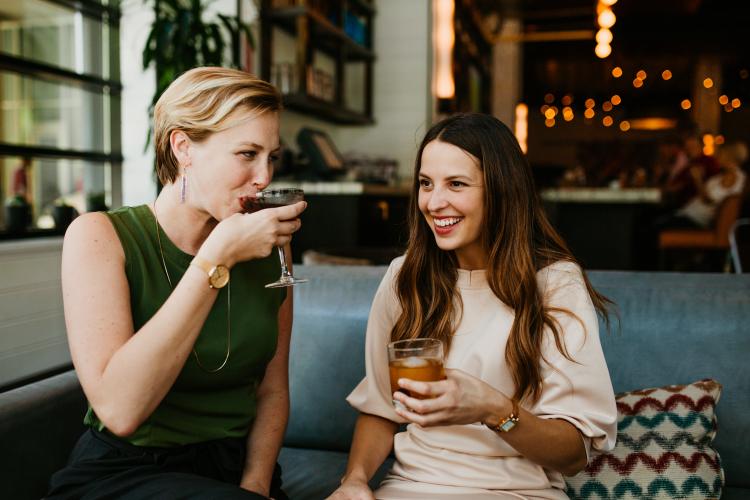 Westport Whiskey and Wine

This is another place to discover Bourbons that are hard-to-find and those you'll come to appreciate as day-to-day favorites. Stop by their tasting room and chat with co-owner Chris Zaborowski, noted whiskey authority and Executive Bourbon Steward. They offer special classes with tastings led by Master Distillers. Be sure to check their calendar for 'Thursday Night Socials' where they offer a special cocktail and promote flights of the week. This has a maximum capacity of 15 people, with mask requirements and proper social distancing. Pro tip: Sign up for their emails at the bottom of their website to be in the know on upcoming events.
Bourbon themed Lodging
Why not make your stay soaked in a Bourbon experience from sunrise to sundown by staying in one of these themed accommodations:
Bourbon Inn
Experience this magnificent Victorian Mansion in Louisville's classic Old Louisville neighborhood, restored with all modern amenities. A stay at the Bourbon Inn offers a look at the genuine Bourbon heritage of Kentucky including the Bourbon themed décor, Bourbon infused breakfasts, desserts and gift shop offerings. Plus, overnight guests may also purchase and enjoy Bourbon cocktails on site. Old Louisville has the largest collection of restored Victorian homes in the country and is the third largest Historical Preservation District in the U.S.
Chateau Bourbon B&B
A great choice for travelers seeking comfort with a splash of Bourbon in a down-home atmosphere from the welcoming front porch to the comfortable backyard swings. Located in the heart of Norton Commons, a unique and vibrant walkable community just 10 miles from downtown Louisville. Whether you're a Bourbon newbie or a self-proclaimed Bourbon nerd, they have the 'spirited' experience you're looking for.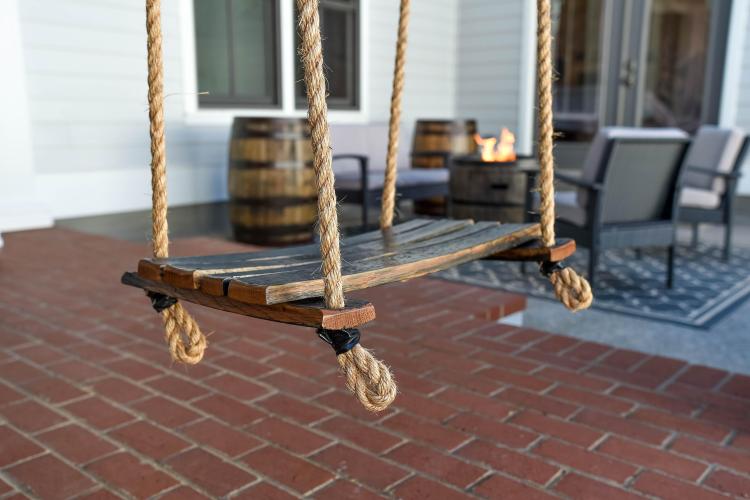 Newly opened on Louisville's Whiskey Row in October 2019, Hotel Distil is a Marriott Autograph Collection boutique hotel celebrating Louisville's Bourbon heritage. Hotel Distil incorporates an original 1860's era façade, which was saved following a fire in 2015, and was the original location and barrel house for J.T.S. Brown and Sons. The hotel's décor pays homage to the Bourbon culture, along with offering a unique guest cocktail experience with a nightly toast to celebrate the repeal of Prohibition. The hotel's three dining options include Repeal, an oak-fired steakhouse, Bitters End, an open-air rooftop bar, complete with a retractable glass roof and The Barrel Room, a private 15-person space with a separate bar.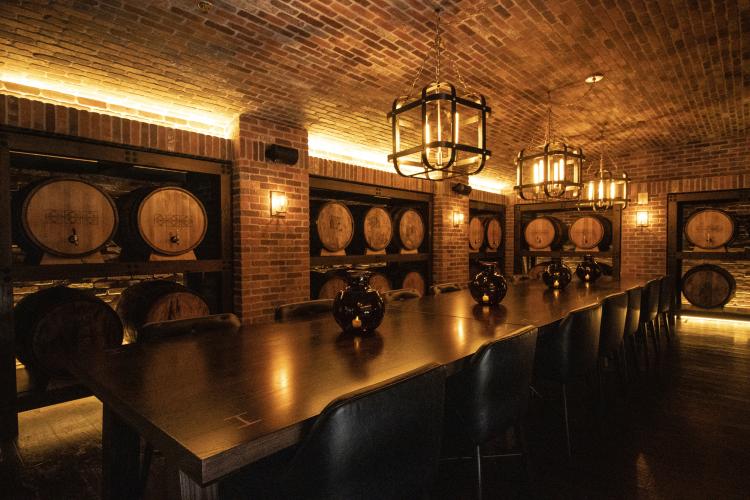 Louisville Marriott East
Settle in for some serious southern hospitality in the heart of the East End. Drink your way through the Kentucky Bourbon Trail® and find sanctuary in their Bourbon-inspired rooms. Dine at Charr'd Bourbon Kitchen and Lounge, a stop on Urban Bourbon Trail®, where you can sample some of their 200 Bourbon varieties and indulge in Bourbon-centric dishes.
For dining options, including a list of heated patios, use check out our Louisville Eats page.
To see Kentucky's current COVID-19 guidelines and restrictions click here.
For more things to do in Louisville be sure to check out our calendar of events.