Welcome to Louisville Expo! Expo!
At the starting gate... and they're off!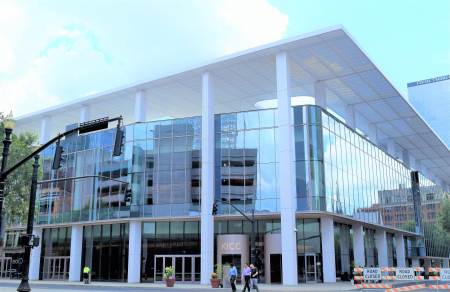 While we may not be back at full gallop, Louisville's tourism industry is back in the saddle and ready to welcome IAEE Expo! Expo! December 8-10.

Kentucky is one of just a handful of states to meet federal guidelines for reopening and the Bourbon City is leading the way in a phased reopening that includes expert-driven safety guidelines for our lodging, attractions and venues.

We've assembled the following travel tools to help put your trip to Louisville in the Winners Circle.
Reopening Safely
Louisville Tourism has implemented an industry reopening task force with an overall goal of developing expert plans and best practices for each hospitality sector. Using national resources, our local leaders in each category have collaborated to develop guidelines and best practices related to their specific industry segment such as restaurants or hotels to make sure Louisville has safely reopened to guests.
Kentucky Venues
Louisville has been busy preparing to welcome groups back to Bourbon City by doing some extra cleaning. Louisville Tourism engaged the GBAC STAR™ facility accreditation program on cleaning, disinfection, and infectious disease prevention to ensure that it is safe to visit. Both the Kentucky Exposition Center (KEC) and the Kentucky International Convention Center (KICC) have reached GBAC accreditation, the first centers in Kentucky to do so.

The GBAC STAR™ accreditation helps buildings like hotels, airports, convention centers establish and maintain a cleaning, disinfection, and infectious disease prevention program by using special techniques. In other words, our city is going the distance to be extra safe and clean! There is an extensive list of protocols that must be followed to get this coveted accreditation. Learn more here.
Highlights of Kentucky's safe reopen plans include:

Facemasks

Kentucky has a mandate for facemask coverings in public including restaurants, retail, attractions, taxi or ride-sharing vehicles and other public settings.
The mandate applies to outdoor circumstances only when social distancing of six feel is not possible to maintain. View the executive order here.
Venue capacity
Kentucky's Governor has state issued guidelines limiting event capacities to 50% along with appropriate six-foot social distancing protocols.
Minimize the use of any waiting areas
Restaurant requirements
Current restaurant requirements include 50% indoor capacity, with encouraged use of outdoor seating
Food and drink service must end by 11 p.m. and each place must close by 12 a.m.

Retail requirements
Retail businesses must limit the number of customers to 50% of the maximum permitted occupancy of the facility, assuming all individuals in the store are able to maintain six feet of space between each other with that level of occupancy.


To view current open attractions, retail and restaurants, please visit Louisville Tourism's COVID-19 resource page here.